Purple Lotus School has been organizing the Wisdom Camp for the summer activity since 1998. It is designed for students' age ranging from 7 to 15 with a 3-4 week-program. The mission of this camp is to demonstrate, encourage and help students understand the importance of caring, honesty and self confidence. We specialize in utilizing group competition activities to train participants to develop etiquette, mindfulness, alertness, respect for others, self-motivation, physical training and spirit and co-operation.
Morning Activities
Before breakfast, children participate in guided morning exercises and laughing yoga to start a new day. Children will learn a traditional set of Chinese moving exercises aimed at improving health. They will also learn how to use smiles to positively solve some of life's problems. Afterward, children will participate in morning meditation session. Under guidance, they will learn to invoke the great energy of the universe to empower the body-mind. In the process of 25 minutes, students learn how to relax, focus the mind, calm down a turbulent mind, and stimulate the deep innate wisdom.
Morning Classes & Spiritual Learning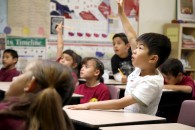 After breakfast, enrichment and enhancement classes are arranged throughout weekday mornings; including classes such as Spirit of Buddhism teaching karma and the life stories of Shakyamuni Buddha, English Writing, Morning ESL (English as Second Language) – specially tailored for international campers, Math Challenges, etc. Students will not only enhance their academic English and Math skills but will also learn why it is necessary to be a good person and do good deeds. The Spirit of Buddhism classes also incorporate many self-improvement topics and discussions such as the virtues of patience and tolerance, responsibilities, time management and goal-setting. There are also fun and unique educational classes for memory training, Buddhist art, Buddhist chanting, origami handcraft and more.
Afternoon Activities
Afternoon classes are geared toward fun activities. Children participate in games to learn about science and living skills. They will be participating in scientific experiments as well as learning about cooking. Some of the popular activities such as game competition, outdoor teaching, and sports competition may be incorporated in the afternoon programs. These programs are meant to immerse youngsters in a fun atmosphere that helps them learn about daily living skills easily and seamlessly.
Outdoor Activities
Our school currently has two large buses that seat up to 58 people. Every week, two outdoor activities are planned. In addition, we also plan weekend program to visit famous scenes in the San Francisco area as well as museums and amusement parks that they will have a culturally enriching experience. Famous sites visited may included the scenic 17 miles, Golden Gate Park, Japanese Tea Garden, Golden Gate Bridge, Fisherman's Wharf, Palace of Fine Arts, and Asian Museum.
Games and Competitions
Games and competitions are one of the best models of learning. All children love games. Under the conditions of competition, they will be more motivated to learn about self-management and to fulfill their goal. Competition starts right at the moment of t rising from bed. We will divide the whole camp into several groups. The behaviors of each individual will affect the scores of their own team. They will be scored on timeliness in getting up, bed-tidying, meal etiquette, conduct in class, activities competition, variety show, appearance, and respect for teachers. Peer pressure is used in a positive manner to teach students to learn about the important role of an individual within a group.
Wisdom Evening
After a busy day, it is best to have a period of serenity. At the moment, students will review their works and activities for the day and plan for the next day. We will provide some themes such as "gratitude, filial love for parents, fairness, money, friendship, and health for them to explore. There will also be age-appropriate discussions upon themes such as aging, illnesses, and death. Often times, the thoughts of children can surprise adults beyond their imagination. Without preconceived ideas, children are very creative in accepting and resolving major issues in life.