Leadership Camp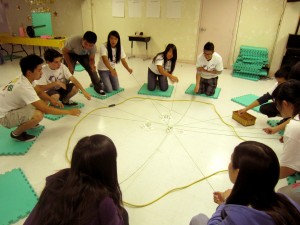 The Leadership Camp is for teenagers above 15 years old. It is a week long experience of learning how to lead a group of people. A leader leads by example, with integrity and respect. A leader takes responsibility and is able to think and act creatively in difficult situations. At our Leadership Camp, we provide teenagers with the tools to become outstanding members of their social group or community. After the camp, the participants have a chance to become Leaders-in-Training for the Kid's Camp, gaining valuable hands on experience working with a group of people as well as getting the chance to provide up to 120 hours of community service.
Kids Camp
Wisdom 360 Kid's Camp provides a different option for an enriching summer experience. Beyond the normal arts and crafts class other camps provide, our Kid's Camp combines fun learning activities with practice to become more centered individuals. Our kids learn Chinese dance, Chinese yoyo (diabolo), perform fun science experiments, and most importantly learn how to meditate and be mindful of their daily lives.
Chinese Culture
With sponsorship from the Overseas Chinese Affairs Council R.O.C (Taiwan), professional teachers from Taiwan teach kids about Chinese culture, bringing along decades of experience in cultural arts such as Chinese ribbon dances, hat dances, or performing with a Chinese yoyo, otherwise known as a diabolo, a sport currently popular around the world. Students have also learned how to make traditional Chinese desserts.
Science Experiments
At our Kid's Camp, we believe learning should be fun. Kids enjoy our fun science experiments, which have included egg drops, rocket launches, model volcanoes, straw roller coasters, and more. Kids have even made ice cream while learning about the changes in freezing points by adding different substances to water.
Meditation & Mindfulness
The most unique part of our summer camp is learning to become mindful and aware through meditation. Students learn how to focus on their breathing and use visualization to bring more positivity into their lives as well as increasing their attention. Guided meditation teaches kids to look inside for answers and guidance to difficult problems. We have had many amazing stories from students who have gained insight to themselves through our meditations.
Click here for more details about our Kids Camp!!