About Us
More on Related Content
Purple Lotus School was founded in 1997 by Master Samantha Chou, to fulfill the need to integrate True Buddha School philosophy and practice into kindergarten through grade twelve education. Such an education will nurture Buddhists mindful of continuing the global service modeled by Master Samantha Chou's own legacy of worldwide philanthropy and enlightened living. As of today, Purple Lotus has seen 10 years of graduates move on to join outstanding higher educational institutions as well as becoming compassionate, loving and responsible people.
The wisdom in Buddha's teachings so many years ago is in its applicability to life, regardless of race, gender, orientation or even religious faith. In the teachings lie ways of seeing into the root of the problem of our human unhappiness, and train ourselves to be able to participate in this world in a manner that brings more purpose and fulfillment in our lives. These ideas can be practiced by anyone. We teach our students karma and to be responsible people. We educate our students to see how the world can be different by affecting compassion, that all of living beings are interconnected. We have the same wants – to live fulfilling lives, and we have the same fears and fate – age and death. Life is replete of transitions; some are prepared for, but most arrive suddenly. We encourage our students to look through the lenses of impermanence, that nothing is permanent, as mindfulness in the present provides fluidity in change. A student prepared for success in creating a fulfilling life is a student that can deal with these transitions mentally, physically and emotionally in a seamless manner. In our currents times, this could not be truer.
Founder
Master Samantha Chou is the resident master at the Purple Lotus Temple [PLT] of the True Buddha School in San Bruno, California, located in the San Francisco Bay Area. In July 1997, Master Samantha established the Purple Lotus School [a K-12 school] with the mission of nourishing the next generation through Buddhist education.
She is a dedicated Buddhist leader with extraordinary gifts and a strong commitment to spread the teachings of True Buddha Dharma Buddhist philosophy and principles of moral living to people around the world. Master Samantha, during her more than two decades of practice, performed more than two thousand ceremonies around the world and continues tirelessly to teach and send blessings of prosperity and peace to all sentient beings. Her religious and charitable activities reached throughout the United States, and in more than 25 countries including Australia, New Zealand, Canada, Spain, United Kingdom, France, China, Hong Kong, Japan, Malaysia, Indonesia, Taiwan, Panama, Singapore, Brazil, Central America and more.
Master Samantha believes that increasing one's knowledge and abilities to achieve a balanced mind, body, and spirit will contribute to bring peace and harmony to the world. "We want to create a dynamic program that promotes mental, physical and spiritual excellence, while training children to make good moral choices that benefit others around them," she said.
Through sincerely implementing the Four Immeasurable Vows – loving-kindness, compassion, joy and equanimity – Master Samantha prays that all beings enjoy perpetual happiness – the immeasurable vow of equanimity.
History
The Purple Lotus School was established in 1997 to integrate the True Buddha Dharma Buddhist philosophy and practice into our K-12 program. The school was founded by Vajra Buddhist Master Samantha Chou, the resident Master at the Purple Lotus Temple [PLT] of the True Buddha School in San Bruno, CA. In the beginning, the Purple Lotus School was managed by the Temple and hence, most of the students came from families who were members of the Temple. In 1998, the Purple Lotus School established a boarding facility to accommodate non-local students.
In 2000, the Purple Lotus School financially separated from the Temple and thereafter was governed by a standing Committee of the Board of Directors of the Temple [Governing Committee]. In 2002, a thorough financial audit was conducted and a clean audit report was issued. Shortly thereafter, the school applied for and received full accreditation by the National Private Schools Accreditation Alliance.
In 2005, the Purple Lotus School received permission from the United States government to enroll foreign non-resident students from around the world. In addition, the Western Association of Schools and Colleges [WASC], the foremost worldwide accrediting agency, has accredited Purple Lotus School in June 2007.
Milestones

1997 - Founded by Master Samantha Chou, the founder of True Buddha School Purple Lotus Temple. We started with Lower School program

1998 - Established a boarding facility to accommodate non-local students

1999 - Started Middle School

2001 - Started High School

2002 - Received full accreditation by the National Private Schools Accreditation Alliance

2005 - Obtained permission from the United States government [IRS] to enroll and issue I-20 to foreign non-resident students from throughout the world

2005 - Accepted by the Western Association of Schools and Colleges [WASC], the foremost worldwide accreditation agency, for association and candidacy

2007 - Received WASC accreditation [2-year term] in June 2007
Global Perspective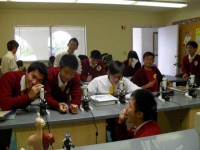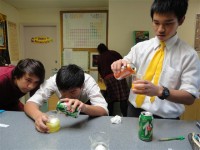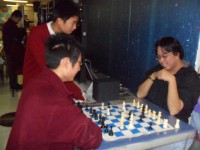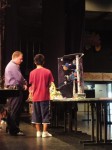 Activist concern and compassion for all of humanity, especially in the aftermath of natural and man-made disaster is part of Master Samantha Chou's philosophy. Students participate in community service projects ranging from cancer research fundraising with Relay for Life to wildlife restoration with Save the Bay. These activities introduce students to localized ways to organize nonprofit philanthropy. Furthermore, we have a Buddhism and Service class dedicated to encouraging students to get involved with volunteer service.
Purple Lotus School consists of students from families both local and non-local, Buddhist and non-Buddhist. Our multilingual students come from various places in the United States, as well as Canada, Asia, Europe, and Latin America. English is the language of instruction, with the exception of Chinese Language Classes. However our diversity is remarkable, students can be heard speaking Chinese with a Panamanian-Spanish accent, or a Malaysian accent, or a Southern American accent. Most students are trilingual. As an example, we have students fluently speaking Spanish, Mandarin and English.
On the other hand, Purple Lotus students are also like any American student, curious, precocious, inquisitive and acquisitive. They want as much as any other American student, to excel academically, to be competitive, to matriculate to college, to occupy good paying jobs, to own a home or car, to marry, to have children – overall to be successful. Their parents have the same expectations. We want our students to have the mindfulness to navigate life's challenges and demands with consideration and respect to all living beings. Our students graduate within the shadow and opportunity of the San Francisco metropolitan, including Silicon Valley, at the forefront of the Pacific Rim; meaning, they feel the pressure to succeed. Buddhism becomes a practice by which pressure can be managed, to provide calm and focus and refocus.