Student Life

Purple Lotus School is a private school with small class sizes of 15 or less students. The boarding students are a close knit group from various countries as far as Malaysia, Taiwan, China, Panama, and Canada. The multi-cultural experiences and background help expand the life experiences of the students.
Dorm Life

The dorms are divided into girl and boy dorms, with 2 kids to each room. There are dorm parents that care for students during the evening hours until dawn. The teachers and dorm parents together help to nurture the kids to live independently.
Social Life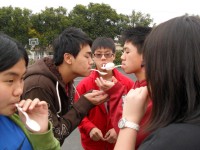 The boarding and local students together develop a close knit support network. They share activities such as basketball, Aikido, and computer learning during afterschool hours as well as in the weekends. They have opportunities to develop social skills, such as public speaking, including participation in performances during special events. This includes singing and dancing in front of large audiences. All students are encouraged to take part in various community outreach activities. Through volunteering, students will have the chance to grow and develop character, establish the spirit of giving, and team spirit from being a part of such community events. They also have opportunities to build their foundation in areas of meditation and Buddhist philosophies by participating in Buddhist ceremonies at the temple.
Dining

The school provides healthy, well balanced home cook meals 3 times a day. Menus are planned out each month and prepared using the freshest ingredients. The typical food menu ranges from Chinese, Italian, Mexican and American. This environment trains the students to be independent and to take care of themselves.