Class of 2014 Graduation
Hello Families and Friends!
Purple Lotus School is proud to announce our 12th Annual Graduation Ceremony this June. On June 14th, 2014 at 10am, our graduating seniors, Ernesto Ng Chen, Jia How Lim (Joe), and Chun Yu Xie (Edward) will be celebrating their last day as a high school student. They will give their heart felt speech of appreciation for those who have helped them throughout the years. In addition, we will be thanking staff and volunteers who helped us make this school year a success. We welcome you and your family to join us to celebrate this special day! Refreshments and lunch will be provided.
Hope you can all attend and cherish this special moment with our graduating Class of 2014!
Date: June 14, 2014
Time: 10am to 12:30pm
Address: 33615 9th ST. Union City
Telephone: 510-429-8808
Please RSVP with our administrative office by calling 510-429-8808
Our Goals
Maintaining a safe, nurturing environment, while using a balanced curriculum by integrating the three essential components –Mind , Body, and Spirit — to develop an individual. We equip students with the essential skills that they will carry throughout their lives. Intra-personal and Inter-personal, Communication, Health & Well-Being, Compassion, Self-Actualization.. This is our goal for our students for years to come.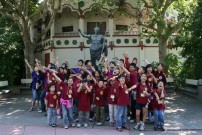 Upcoming Events!
Wisdom 360 Summer Camp
Purple Lotus School has been organizing the Wisdom Camp for the summer activity since 1998. It is designed for students' age ranging from 7 to 15 with a 3-4 week-program. The mission of this camp is to demonstrate, encourage and help students understand the importance of caring, honesty and self confidence. We specialize in utilizing group competition activities to train participants to develop etiquette, mindfulness, alertness, respect for others, self-motivation, physical training and spirit and co-operation.

What is Wisdom?
Wisdom is a deep understanding and realization of people, things, events, or situations resulting in the ability to choose or act to consistently produce optimum results with minimum time and energy, seizing the power that is already within you.
Click here for more information about our Summer Camp!!