Our Goals
Maintaining a safe, nurturing environment, while using a balanced curriculum by integrating the three essential components –Mind , Body, and Spirit — to develop an individual. We equip students with the essential skills that they will carry throughout their lives. Intra-personal and Inter-personal, Communication, Health & Well-Being, Compassion, Self-Actualization.. This is our goal for our students for years to come.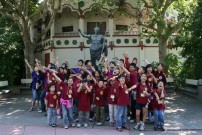 Upcoming Events!
Wisdom 360 Summer Camp
Purple Lotus School has been organizing the Wisdom Camp for the summer activity since 1998. It is designed for students' age ranging from 7 to 15 with a 3-4 week-program. The mission of this camp is to demonstrate, encourage and help students understand the importance of caring, honesty and self confidence. We specialize in utilizing group competition activities to train participants to develop etiquette, mindfulness, alertness, respect for others, self-motivation, physical training and spirit and co-operation.

What is Wisdom?
Wisdom is a deep understanding and realization of people, things, events, or situations resulting in the ability to choose or act to consistently produce optimum results with minimum time and energy, seizing the power that is already within you.
Click here for more information about our Summer Camp!!